Norske politikere har de siste timene vært i fokus for deres satsing på transport og deres kommende transportplan for Norges fremtid. I følge de tallene som har kommet frem vil det bli brukt ufattelig mange milliarder kroner på transportutbygging de kommende årene. Selvsagt er dette vel og bra og jeg synes blant annet at mange av de norske veiene har altfor dårlig veistandard enn det vi burde hatt.
 
Det er andre som på en måte også vil satse på en transportplan og det er utvikleren Colossal Order fra Finland. De jobber som du sikkert har fått med deg iherdig med deres meget populære bybyggespill Cities Skylines. Helt siden det ble lansert 10. mars 2015 kommet en rekke tilleggspakker og i dag ble en ny tilleggspakke annonsert og som du sikkert skjønner med det jeg har skrevet hittil så blir det fokus på transport. 
 
Mass Transit heter tilleggspakker og vil inneholde nye transporthubs, ferjer, monorails, heiser, luftskip pluss masse annet og som vanlig er det noe som koster penger og noe som man får med gratis i en patch. Selv synes jeg denne tilleggspakken ser meget spennende ut og spesielt med tanke på at alt har jo med kollektivtransport å gjøre.  
 
Her er litt mer info om tilleggspakken Mass transit:
Mass Transit is the latest expansion for Cities: Skylines, the award-winning city-building game, and it brings several new systems into play to help citizens traverse their towns in speed and style. Commuters can now get around on the water, up high mountain peaks, and even through the sky thanks to the addition of ferries, monorails, cable cars, and blimps to the game. Along with new transit service buildings, mass transit hubs where lines can exchange passengers, new scenarios, new landmarks, and new road types, urban planners now have more options than ever to add unique style and personality to their growing cities.

Feature List:
– Sick Transit, Glorious Money: Add a wealth of new transit options to your city, and add wealth to your city?s income! Let your citizens get across town in ferries, blimps, cable cars, and monorails!
– Orderly Hub, Bub: New mass transit hubs can bring all of your services together, letting citizens change rail lines in one building, or hop from the bus onto the ferry, or even find their way through a sprawling monorail-train- metro station.
– Become a Roads Scholar: Explore a set of new challenge scenarios focused on solving traffic problems and adding new transit systems.  New road types, bridges and canals adds variety to your city, and new ways to solve its challenges.  Become an expert in traffic flow, and then use that knowledge to improve your city!
– New Hats for Chirper: NEW. HATS. FOR CHIRPER.  (And also new unique buildings, policies and achievements. But HATS!)
 
Dette er altså det du etter hvert vil få i den nye tilleggspakken som etter hvert dukker opp. Dessverre har jeg ikke noen releasedato ennå, men den som venter på noe godt, venter ikke forgjeves. 
 
Spiller du Cities Skylines eller har spilt det? Skal du kjøpe denne tilleggspakken?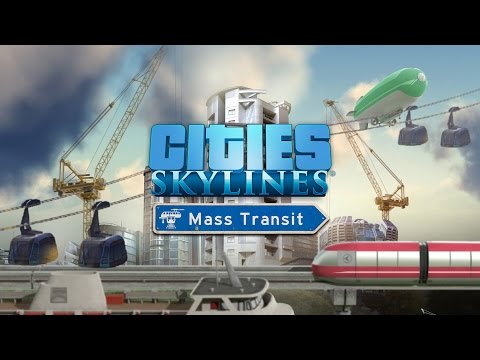 #citiesskylines #colossalorder #paradoxinteractive #spill #gamer #games #gaming #game #tilleggspakke