Nylig annonserte Paradox Interactive en helt ny tilleggspakke til det meget populære Cities Skylines som ikke bare finnes til Mac og PC, men også til Xbox One, Playstation 4 og Nintendo Switch. I den kommende tilleggspakken er det full sats for industrien i byen og metropolen. Nå blir det muligheter å oppgradere industrien og bygge kvartal etter kvartal med fabrikker. Fabrikkene og produksjonsstedene trenger resurser og med dette kommer også mer spesifikt tilpasning av skogbruk, jordbruk, olje og jern. 
 
Gjennom det økte fokuset på utvinningen så må en også bygge opp lagringskapasiteten pluss at det blir bedre muligheter å selge produktene og varene med bedre havner, togbaner og sist men ikke minst flyfrakt. Med en ny flygodstransport så kan du sende varene opp i lufta og ut fra byen din. Videre vil også en ny postfunksjon kommer med med postbiler som samler opp posten og kjører den til postfordelingsenter. 
 
Her er noe av det du vil få med i tilleggspakken som har fått tittelen Industries: 
MAKE IT HAPPEN
Follow your products from harvesting to processing, storage and production, then transport them to commercial zones or export to other cities.
CAPTAIN YOUR OWN INDUSTRIES
Define an area with the industry area tool and place highly specialized industrial buildings to build and manage the production chain from raw material extraction up to final end product. Industry Areas are divided into four types based on the natural resource they are processing: Farming, Forest, Ore and Oil. These areas can level up upon reaching productions goals and staffing requirements.
 

BUILD IT UP, BUTTERCUP
New industrial buildings include Extractors, Warehouse Facilities, Processing and Auxiliary Buildings, Industrial Props and Roads. Unique Factories, such as Food, Toy, Furniture, Car and Electronics produce luxury products, and require a large number of workers, water and electricity as well as input from your industries.
SHIP IT
Manage traffic and logistics with industrial warehouses and the use of the new Cargo Services including a cargo airport.
 

GO POSTAL
Boost your citizens well-being with mail delivery and collection services. Post sorting facilities handle mail between outside connections and the post offices, and new Post Van and Truck vehicles enable the carriage.
WONK HARD
Three new Industry Policies and four City-wide Policies, including Workers Union, Sorting, Tolls, Wi-Fi, Logistics, Work Safety and Automation.
 

FIVE NEW MAPS
Rich in natural resources, transportation options and industrial opportunities, these new maps have all the right stuff.
 
Om du ikke vil betale for den kommende tilleggspakken så kommer den finske utvikleren Colossal Order med noe gratis også. Som en oppdatering kommer nå bomstasjoner og bomveier noe som vil gi mer inntekt til byen, men vær obs på at trafikken også her vil gå tregere med bomstasjoner. Skulle nesten tro at Colossal Order har vært en tur i Norge og kjørt gjennom de mange bomveiene som finnes. Den 23. oktober er det opp til oss om vi skal være lik den norske regjeringen og bombardere med bomveier eller være snill og la innbyggerne slippe unna. 
 
Gleder du deg til tilleggspakken Industries og spiller du Cities Skylines?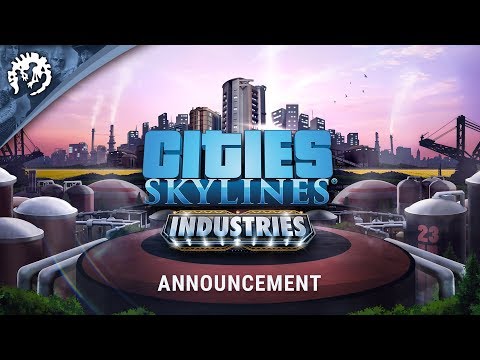 #citiesskylines #industri #dlc #tilleggspakke #spill #gaming #gamer #games #game #spilling #pcgaming #pcspill